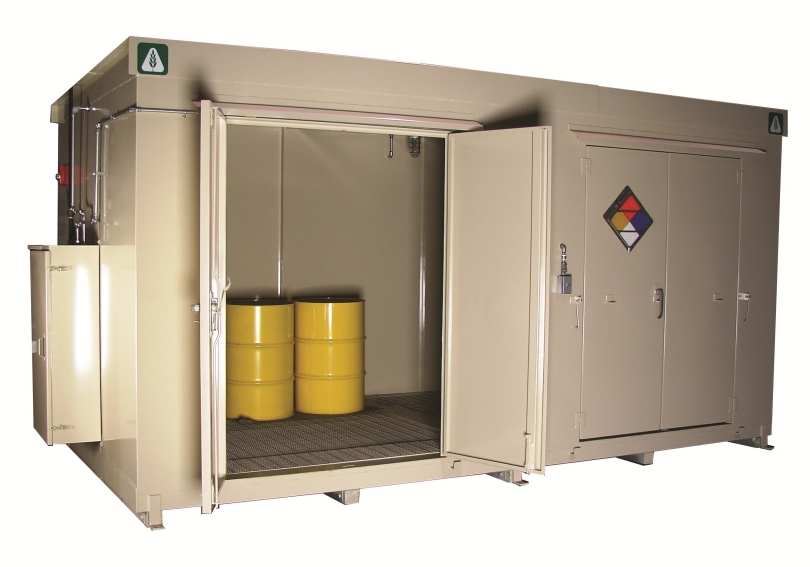 Safe Storage Buildings for Chemical Substances Both a responsibility and standard requirement, companies that manufacture and supply chemicals must provide safe storage buildings for their chemicals to safeguard the safety and health of the workers, as well as the public and the environment. Flammable liquids, chemicals and hazardous waste are safely and securely stored in chemical storage buildings which feature a leak-tight sump area at the bottom to prevent leakage and contamination on the surrounding storage area. Basically, chemical storage buildings are customized to accommodate any type of container, according to the volume capacity of chemicals that are normally stored. To safely secure from leakage and contamination, all Class 1 flammable and combustible liquids in drums in an outside location must be stored in a chemical storage building, which is a standard requirement and procedure. Class 1 flammable and combustible liquids are categorized into: Class 1A – those liquids that have flash points below 22.8 degrees Centigrade and boiling points below 37.8 degrees Centigrade; and Class 1B – those liquids that have flash points below 22.8 degrees Centigrade and boiling points at or above 37.8 degrees Centigrade.
The Path To Finding Better Products
Since the Factory Mutual System Approval label and the FB Approved fire rated wall and roof design are standard basis for storage buildings, almost all chemical storage buildings must be fire-rated designed and approved. Fire ratings upgrade mean the time duration in which a structure can withstand the damage of fire, therefore, fire-rated storage buildings are constructed following these criteria: standard buildings must pass the 2-hour and 4-hour fire ratings upgrade, walls must pass the 2-hour and 4-hour fire ratings upgrade, and roofs must pass the 1.5-hour and 3-hour fire ratings upgrade. In addition, all fire-rated buildings must be equipped with hydraulic operated self-closing, fire-rated doors and fire damper protected vents.
How I Became An Expert on Products
Chemical storage buildings are constructed out of a 16 gauge galvanized steel for a 12 drum capacity, while larger buildings are constructed of a 12 gauge galvanized steel. The standard sump, bottom part of the storage building which functions as reservoir, is constructed of heavy gauge steel with leak tight seams, while the interior of the sump is coated with corrosion resistant material, a high-density polyethylene liner. The sump must contain at least 25% of the liquid storage capacity of the building, for instance, if the building is designed to store four 55-gallon drums, the sump can only contain 55 gallons. A change in temperature can affect the storage of the chemicals, such that if you are storing a liquid that may freeze and, in the process, the chemicals may expand and cause its container to burst, an explosion proof heater must be used during the cold seasons; and, in the same manner, if you're storing a liquid that has a low flash point and the weather conditions allow for a high internal air temperature, an explosion proof air conditioning unit must be installed.